Top Atlanta Watch Store
Timeless Luxury is the top buyer of all luxury Swiss watch brands in Atlanta. We offer a safe and secure location with over 15 years experience in buying watches. Our goal is to make sure that you receive the most money possible when selling your luxury Swiss watch. For a free quote on your watch please fill out the form to the right. We will do our best to get you as accurate a quote as possible based on the photos and details provided. In many cases, the watch will have to be seen in person to get you a firm offer. We are long-standing members of the International Watch and Jewelers Guild so rest assured that you are dealing with the best watch buyer in the metro Atlanta area. Call us or come see us today and experience the Timeless Luxury difference! To learn more about Selling your watch to us click here.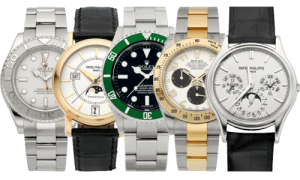 Watch Brands We Buy:
Rolex
Patek Philippe
Cartier
Hublot
Omega
Breitling
Panerai
IWC
Franck Muller
Audemars Piguet
Jaeger LeCoultre
Reliable Watch Appraisals
At Timeless Luxury, we offer free verbal appraisals on all watches seen in our store. If you are in need of a written appraisal for insurance or estate purposes we can help you on that as well. Appraisal pricing is based on the size and scope of the job. For more information regarding our appraisal services please give us a call today!
Rolex Watch Service and Repair
Do you have an old Rolex or Omega laying around that no longer keeps time? We can help bring that old broken watch new life! Our watch repair specialist can service all brands and all complications. With over 50 years of watch repair experience there absolutely no job that is too big or too small. Whether you are looking to sell that old watch or get it fixed, Timeless Luxury is the place for you. Please call us or come see us today!
</div><!-- [et_pb_line_break_holder] --><div id="form" style="float: right; top: 40px; bottom: 0px;"><!-- [et_pb_line_break_holder] --><div class="caption"><!-- [et_pb_line_break_holder] --><h2 style="text-align: left;">Get a Quote Today</h2><!-- [et_pb_line_break_holder] --><p>Fill out the form below and one of our knowledgeable buyers will be in touch with you as soon as possible. Please add photos and any additional details for a more precise quote. <span style="color: #999999;">_________________________________________________________</span></p><!-- [et_pb_line_break_holder] --><!-- [et_pb_line_break_holder] --></div><!-- [et_pb_line_break_holder] -->
</div>