History of IWC
International Watch Company started Florentine Ariosto Jones in 1868. Jones was an American engineer and watchmaker that was only 27 when he founded the company. He had worked as deputy director and manager of the E. Howard Watch and Clock Co. in Boston. His goal was to combine outstanding Swiss craftsmanship with modern engineering technology from the US and produce high-quality pocket watches for the American market.
Jones started the company in Schaffhausen, Switzerland with the help of many skilled Swiss watchmakers. He utilized modern technology and hydropower from the nearby Rhine river to manufacturing his high-quality watch movements. Jones ultimately decides to return to the states and industrialist family from Schaffhausen, the Rauschenbachs take over IWC. The company produces high-quality pocket watches as well as wristwatches in the early years.
In 1905, Schaffhausen industrialist Ernst Jakob Homberger takes over the company following the death of Johannes Rauschenbach. His tenure with the company was very influential as he began the production of two watch families that are still icons of the company today. The first of these icons being the pilot's watches, which were very popular due to their unmistakable design. The second was the first Portugieser model (Portuguese) which was a large wristwatch with high precision pocket watch calibre movement.
In 1944, Hans Ernst Homberger takes over as head of IWC. This year saw the addition of many influential design additions. The company began making watches for use by the British Army. These watches were the first IWC's to bear the letters "W.W.W." on the case back which stood for "watch, wrist, waterproof". In that same year, the company launched its first Ingenieur. Its simple round design was very popular and still is to this day. In the late 1940's the company launched its Aquatimer, the first in a long line to come of dive watches. IWC also plays a key role in developing the first Swiss-made quartz movement, "Beta 21".
In the 1980's the company creates the worlds first watch case made from titanium. This made IWC experts in the watch world with case materials. A few years later the company introduces its first Grand Complication, cementing its name in the world of Haute Horlogerie. In 2000, IWC was acquired by Richemont, a Zug based luxury goods group. The company produces some of the finest watches in the world and their commitment to precision and quality hold true to this day.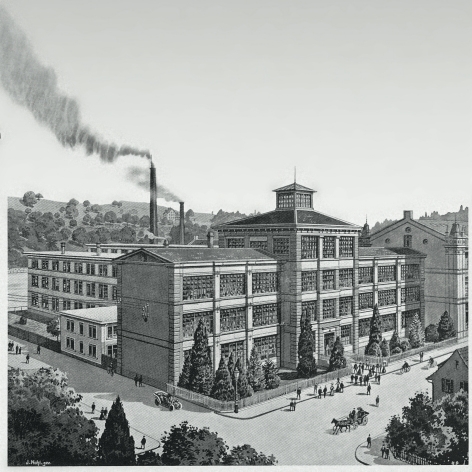 The IWC factory opened in Schaffhausen, Switzerland in 1868
Sell or Buy IWC Watches Atlanta
Are you looking to buy a used IWC watch in Atlanta? Timeless Luxury is proud to offer a selection of these fine pre-owned timepieces at a fraction of their retail cost. We carry many IWC models, from the Pilot watches to the Portuguese. All of the IWC watches that we sell come with a one-year warranty, 7-day no hassle returns, and 100% satisfaction guarantee. Each and every one of our luxury watches undergoes a rigorous multi-point inspection process, and only original factory parts are used when needed. We fully stand behind the authenticity of all of our watches so shop with peace of mind knowing that you are getting exactly what is advertised. If you find a lower advertised price on an IWC watch we will do our best to match it based on the details of the two watches. We strive to be as competitive as possible on pricing and are certain that you will find us to be more than fair. We look to build lasting relationships with our clients which is why we offer the highest level of customer service possible. If you don't see the exact watch that you are looking for listed on our site please give us a call, as our inventory changes constantly. If we don't currently have exactly what you are looking for, one of our knowledgeable sales staff will be happy to source it from one of our nationwide industry contacts. To find out more about "the Timeless Luxury difference" please call us or come in and see us today!
Sell IWC Watches Atlanta
Looking to sell an IWC watch in Atlanta? Timeless Luxury is one of the nations top buyers of IWC watches. We offer immediate cash payment and a safe, secure location. Top dollar paid on all IWC watch models. If for some reason you find a higher offer from a local competitor we will do our absolute best to not only match it but to beat it. We market these watches directly to the end consumer which allows us to pay you more than most dealers. For a free quote on selling an IWC watch click here. If you would like to speak directly to one of our knowledgeable watch buyers please call us anytime at (404) 252-0049.